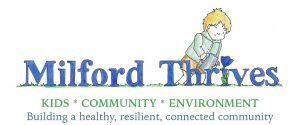 Milford Thrives is a nonprofit (501c3) with the mission of collaborating with community partners to build a healthy, resilient, connected community. Milford Thrives initiatives focus on supporting our children, youth, families; strengthening our community; and protecting our environment.
Milford Thrives is committed to building a nurturing community where parents and families feel supported and all children reach their fullest potential.
Milford Thrives Welcome Baby program welcomes every newborn to the Milford community and connects parents and families with each other and with local early childhood resources.
The Milford Kids Thrive Website and Facebook Page are online resources that provide parents with the latest information on:

child development
parenting resources
family-friendly activities and events
and updates from local early childhood community partners.

Milford Thrives also facilitates a cross-sector early childhood collaborative, the Milford Kids Thrive Collaborative, which includes leaders from the school district, local family and child-serving organizations, community stakeholders, parents and individuals committed to working together to support the healthy development of Milford's youngest children (birth to 8) and their families.  The Collaborative also has a Parent Advisory Council.  If you are interested in participating, please contact Milford Thrives.