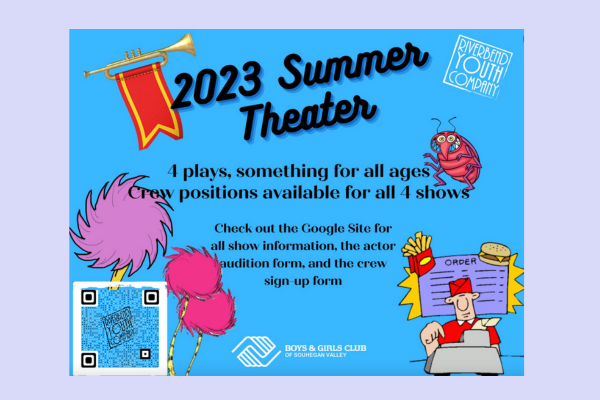 Riverbend Youth Company summer theater auditions
Auditions will be held May 30th and 31st 6:30-8:00pm for the 2023 summer theater season with Riverbend Youth Company at Boys and Girls Club of Souhegan Valley!
Please read each show description below including rehearsal dates, performance dates, and age ranges.  Once you have decided which show(s) you'd like to be considered for, click HERE to fill out the audition form.
Rehearsals for all shows begin the week of June 5th
**There is a $40 participation fee per show**
Summer 2023 performances will be as follows:
*Tales from Dr. Seuss for ages 5-10
directed by Robin LaCroix 
Rehearsals Monday & Wednesday 4-5:30
Performances Wednesday June 28th at 2:30 & 7:00
*Order Up! for ages 13 -18
Directed by Robin LaCroix 
Rehearsals Tuesday & Thursday 4-6
Performances Wednesday July 12th at 2:30 & 7:00 and July 13th at offsite location
*Bedbugs  for ages 9-13
Directed by Robin LaCroix
Rehearsals  Tuesday & Thursday 4-5:30
Performances Wednesday July 19th at 2:30 & 7:00
*The Epic Quest of the Damsels in Distress for ages 10 -16
Directed by Maria & Laurie Toupin 
Rehearsals Monday and Wednesday 4-6
Performances Wednesday 7/26 at 2:30 (final dress rehearsal for club campers), Thursday 7/27 at 7:00, Friday 7/28 at 7:00 and Saturday 7/29 at 2:30
For more information and details on each show click HERE