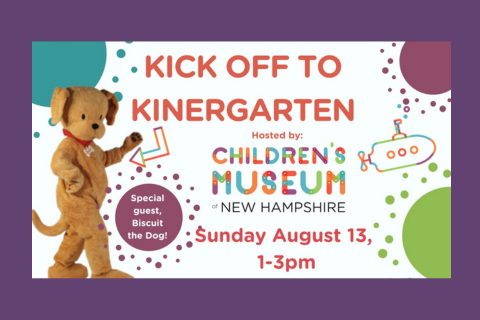 Date
Aug 13 2023
Expired!
Kick off to Kindergarten at Children's Museum of NH
Kick Off to Kindergarten at The Children's Museum of New Hampshire!
Sunday, August 13  1:00-3:00
They are thrilled to welcome students who are entering Kindergarten for the 2023-2024 school year for an afternoon celebration of this exciting milestone!
They will have a Kindergarten crown craft, a scavenger hunt, and so much more! Don't miss a meet-and-greet with special guest, Biscuit the dog, and a reading of the book 'Biscuit Goes to School'.
This event is FREE to attend for any students entering Kindergarten and their families.
*Be sure to pre-register before Monday, August 7th at  https://childrens-museum.org/things-to-do/events/kick-off-to-kindergarten
Please note: This is an independent event hosted by the Children's Museum of New Hampshire and is not affiliated with any school or school district.
Kick off to Kindergarten is sponsored by the State of New Hampshire on behalf of the UNIQUE College Investing Plan.
**They would like to be able to welcome as many kindergarteners as possible, so if your plans change and you can't join them for the event, please email questions@childrens-museum.org and let them know.