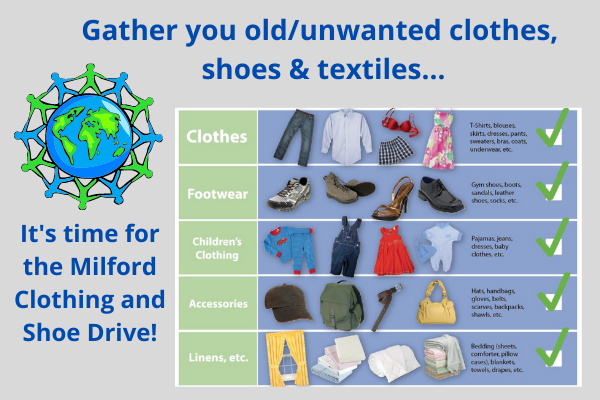 Date
Apr 23 2022
Expired!
Clothing and Shoe Drive: Town of Milford Fundraiser
PULL TOGETHER YOUR OLD CLOTHING, TEXTILES AND SHOES and join Ecosmith Recyclers Inc. and the Town of Milford as they partner in hosting a fundraising clothing and shoe drive.
Raise money to help improve the Still Good Shed at the Milford Transfer Station by donating new or used articles of clothing, pairs of shoes, and household textiles.
Milford Thrives will be there as part of our recognition of Earth Day and in support of the Milford Recycling Committee. Stop by and say hi! We will be giving away bamboo toothbrushes to Clothing Drive participants (while supplies last!)
Examples of items that will be accepted (PLEASE BAG ALL ITEMS…clothing separate from shoes)
Shirts
Jeans
Pants
Shorts
Sweaters
Jackets
Socks
Dresses
Skirts
Bed linens
Towels
Purses
Backpacks
Hats
Scarves
Belts
Sneakers
Sandals
Dress Shoes
Boots
Call (603) 673-8939 if you have any questions
**All collected material is destined for export to less advantaged persons in developing nations around the world.