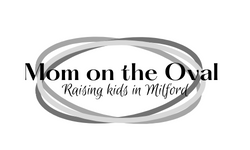 Our Journey from too boring to too busy to just right.
When we first moved to Milford I loved the small-town vibe. I dragged my toddler to all of the different activities I could find.
Fast forward to this past fall, after having my second son we were in a total rut. Some weeks we were busy. Other weeks we were completely un-busy, and not the good kind of un-busy that minimalists talk about.
No. We were boring.
I felt like I couldn't get out of my own way. Adding a kid to your family is a huge increase in the day-to-day work of a household. It felt impossible to improve my life as a stay at home mom.
Then a miracle happened.
Both kids took a nap. At the same time.
I sat down at my computer and got to work, bewildered that there was time. Like Veronica Mars with a new case, I researched events, scribbling in my planner and tapping away on my phone.
Within half an hour I had the next two weeks filled with events outside of our house.
The next step was trickier… actually leaving the house.
Finding out what worked for our family
I wanted to stay home some days.I gave myself permission to cancel. That was when the magic happened. We were able to listen to the needs of our little trio (me and the boys, while Dad is at work) and find what worked for us.
Finding what works for your family
Here's a three-step process to figure out what you want:
(1) decide what matters
(2) pick something you could do
(3) make a decision.
(Full disclosure, I adapted this from The Lazy Genius, Kendra Adachi. She's amazing, I highly recommend all of her stuff… podcast, book, social media, all of it!).
Decide what matters
This year our focus has been on building community for our kids (after feeling a significant loss of community in 2020 and 2021). We decided to prioritize playdates and stronger friendships. That is what matters to us, so our schedule has more playdates than any other type of outing.
Maybe what matters to you is that your child practices using their gross motor skills or speech. Whatever you pick, write it down or name it out loud.
Pick something you could do
With your priorities in mind, go through the list that follows and decide which events are in alignment with your goals.
Then make a decision
The last step involves deciding whether or not to actually attend. I try to make these decisions the day before an event. I'll look at my calendar at night and decide whether to go or stay home. Making the decision is important, at least for me, because it prevents me from feeling guilty. If I don't decide, I spend the whole morning leading up to the event deciding if we could make it and if we should make it. If I decide to go, we will be going. If I decide not to, then I don't think about it.
What's available*
Before we moved here, I was really worried that there would be nothing to do. Milford didn't seem like the type of town that was bustling like Portsmouth, Manchester, and even Keene. I was very wrong. Maybe we're not a big city, but we have a whole lot going on.
Between our recreation department, the library, and some local small businesses, there's plenty of action to fill your schedule. Let's take a quick look at what's happening all week.*
*While I've tried to be inclusive of all activities, there will be some I missed. Please comment below with anything missing that might be interesting to our readers.
Mondays
You could start your morning with a cup of coffee at Union Coffee Co., then walk up to the library for Family Storytime at 10. After a picnic lunch (takeout from Riverhouse anyone?), you can head over to Toddler Play Along at the Town Hall Auditorium (you do have to sign up for that on the rec desk). The best part? Besides your food for the day, all of these events are FREE!
Tuesdays
You can start your day with 1st Friends Club at Sky High Gymnastics, which sounds like a fun playgroup for 0-5 year olds. Then, depending on how old your child is, you can head over to the Town Hall for a 30 minute basketball sesh (wear your sneaks because parents play too). Two to three year olds are first, then four and five year olds play second. If b-ball isn't your game, Sky High also has open play from 10 to 11 or around noon as well. Just remember to sign up and save your spot if these events interest you and your family!
Wednesdays
If you have a baby in the family, start the day with the Baby Lapsit at the library (free!). Then at around 9:30, there's a kids activity training session, also called KATS .(sign up here). I wasn't totally sure what that meant, but it sounds like a great way to get your kids moving in the winter – lots of gross motor opportunities in one big obstacle course. The rec department is also offering FIT FEET, which sounds like a combo of KATS, yoga, and dance (sign up here). Then Sky High Gymnastics has a 10:30 open play. There are a few other classes at Sky High Gymnasticsand then a family fun night at 5:30 (they sell pizza and open up their gym for the whole family).
Thursdays
On Thursdays you have four options at ten in the morning, two that are free and two that you have to pay for. There's the Little Explorers event at the Wadleigh Memorial Library. Wilton's town library also has a Story Circle at ten. Sky High has an Open Play event at 10. Last, but not least, The Nature Skills Cooperative offers The Outdoor Classroom from 10-11:15 (sign up here). Then later in the morning, at 11, there is another open-play at Sky High Gymnastics.
Fridays
Fridays are pretty light, with mainly events happening at Sky High Gymnastics. They offer Baby Stars, a parent-assisted gymnastics class at 9:30, a toddler class at 11:30, and open play at 3:15.
Saturdays
For those with a typical work week, you can join 1st Friends Club at Sky High Gymnastics at 9 AM (though they offer coffee, I might stop at donut fresh express for an iced coffee and some donut holes to help your kiddo get back in the car at the end of open play. There's also a second opportunity to join The Outdoor Classroom by The Nature Skills Cooperative.
Sundays
Sky High Gymnastics has a younger sensory-friendly open gym at 9 AM and then they open it up to all ages at 10 (still sensory friendly). At 10 and 11 they offer all-ages open play opportunities.
I did end up missing some of the many events at Sky High Gymnastics, please head over to their website to see a full view of their many classes and other offerings.
I hope this helps
I hope this helps other families who may be in that too-overwhelmed-to-schedule state. There is so much happening in our town, so I wanted to share a little glimpse into what we can do! If you know of any events we missed, please add them in the comments! Hopefully we can help other families to give their children rich and engaging lives, even in the midst of the busyness that comes along with raising children.
** Scroll down for a printable pdf of the weekly events calendar **